October News
Submitted by RonHanson on Wed, 10/26/2016 - 14:59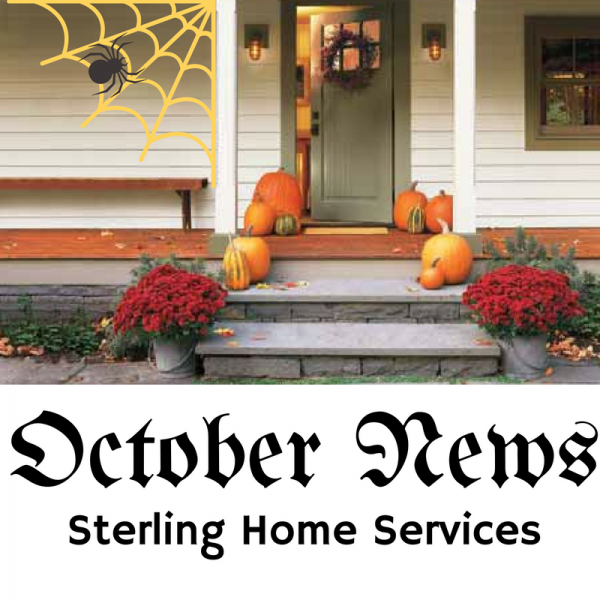 We've had our first taste of colder weather recently so let's use that as a reminder of the seasonal maintenance required to keep us safe and warm this winter. And the housing market sales forecast is much better these days, should you sell? Here are a few trends to consider if you are thinking you might want to sell. Have a safe and happy Halloween!
Winter preparation home maintenance

From the rumors we are hearing this winter could be very cold and very snowy. Don't get caught unprepared! Batten down the hatches before the cold comes blowing down the door. These few maintenance tips can also save you money on heating and electricity!
Home Maintenance for fall.
As always we include your home maintenance schedule. As home inspectors we see a lot of avoidable trouble in homes due to neglected maintenance. A little effort up front, on a regular basis, can prevent expensive and hazardous trouble later on. So set aside a couple of hours to check these few areas of your home to be ready for winter!
INSIDE:
Check for drafts:
Close al your doors and windows and turn off the heating/cooling system then turn ON any exhaust fans like the range hood and bathroom fans. This creates an artificial draft in your house.
Light an incense stick and slowly pass it around the edges of your doors and window.
Watch the smoke for indications of a draft around any edges and mark the spots with a little masking tape.
Next examine the weatherstripping around the windows where you found drafts and adjust, repair or replace any that is old, bent, or damaged.
Seal around the doors where drafts were found.
Fall is the time to get a heater maintenance check. Check the Sterling Home Services, LLC website for a list of our preferred service providers.
Clean your air ducts and replace your air filters in your heater, too. To stay healthy it's important to breath clean airs indoors!
Get your chimney swept - if you have a wood burning fireplace now is the time to have it cleaned.
Flush your water heater and check for rust or lime buildup.

OUTSIDE:
Last winter came early and took many people by surprise. This year get ahead of the game and make the process easier by doing a little bit at a time. Here are a few suggestions for getting started on the outside.
Fertilize - time for that last treatment of fertilizer, it will ensure your grass comes up thick and green in the spring.
Clear the garden - except of course for those root vegetables and cabbage and such that continue producing through the cold wet fall weather. Other plants can be pulled out or trimmed down, remove weeds, clear away any fallen or rotting fruit or vegetable to prevent rogue growers in the spring!
Patio

Putaway

! - clean and store all your patio furniture. Remove any hanging lights or patio decorations and pack them safely away.
Store Summer Tools - Pick up and put away any tools that have been left out. Put the summer tools in storage and bring the winter tools out.
Plant new bulbs! Do you forget every year, too?
Rake - It's tough to keep up with the leaves but especially make sure to remove leaves from sidewalks, driveways and patios so the tannins in the leaves don't leave stains.
Moving on up?
Are you thinking of selling or buying your next house? If you already own a home and you are considering an upgrade you will most likely be in the minority. Recent surveys from Realtor.com suggest that in 2017 52% of home buyers will be first time home buyers and most of these buyer (61%) will be millennials.

The survey also suggests fiercely competitive market for affordable starter homes. Meaning, if you've outgrown your perfect little starter home this could be a perfect time to sell. What if your house isn't "perfect" but needs a little TLC? That's ok too. Turns out these first time buyers are also motivated by finance and will be jumping on those fixer uppers and "good deals". One of the top concern for these first time buyers is the added expenses of home ownership. If they can avoid a high mortgage payment, they'll take a home that needs some work.
Here are a few more tips to reach these first time buyers:
Spell out the financial advantages of home ownership over renting. The long term costs of renting is much more expensive that ownership.
Mortgage rates are still at near record lows
Advertise online - today's millennial buyers never use a phone book, use the online sales channels and social media to sell your home
Get a home inspection. Letting the buyers know how solid your home is or being upfront about the work that is needed will go a long way to calm nerves and build trust.
Pumpkin Trivia
Pumpkins are a member of the gourd family which includes melon, cucumbers and zucchini.
Pumpkins have been grown in North America for 5,000 years
In 2005 the largest pumpkin pie was made. It weighed 2,

020lbs

.
Pumpkins are low in calories, fat and sodium and high in fiber. They contain Vitamin A, Vitamin B, potassium, protein and iron.
If you want to grow a pumpkin the seeds should be planted the last week of May and the middle of June. In 90 to 120 days you will have a ripe orange pumpkin. Pumpkin seeds can be saved and planted the next year for a fresh crop of pumpkins!
Spades take up leaves
No better than spoons,
And bags full of leaves
Are light as balloons.
I make a great noise
Of rustling all day
Like rabbit and deer
Running away.
~ Robert Frost