October 2019 Newsletter
Submitted by RonHanson on Mon, 10/28/2019 - 14:41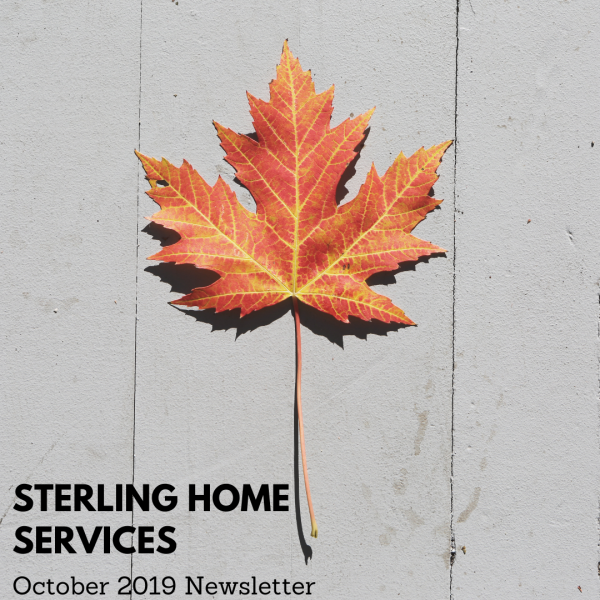 Happy Halloween from Sterling Home Services! Fall is a busy time of year for
homeowners, as the approaching holiday season encourages us to put our best foot forward. In this month's newsletter we tackle some of the season's biggest decoration and maintenance opportunities. First, we offer some easy last-minute Halloween DIY ideas that will make your front yard look festive. Second, we'll give you a checklist for indoor and outdoor maintenance that will give you a head start on preparing for winter. Lastly, that skittering sound in your siding isn't a byproduct of spooky season – we have tips on protecting your property from pesky pests!
5 Last-Minute Halloween Decorating Ideas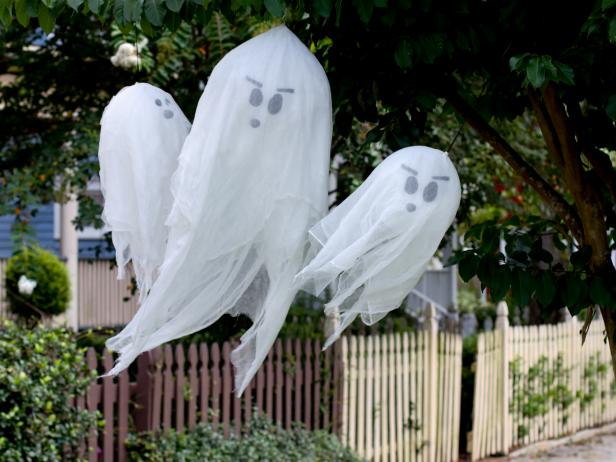 Flying Ghosts – blow up some balloons, cover them in gauze fabric, and attach them to a string to create spooky ghosts that add movement to your outdoor décor
Eyeball Wreath – bloodshot plastic eyeballs glued to a fabric-covered wreath will create an eye-catching display for trick-or-treaters
Bloody Footprints – step into some washable red paint to create a terrifying trail leading to your front door
Glowing Eyes Hiding in the Bushes – cut eye shapes out of some paper towel rolls and pack them with glow sticks to create spooky shrubbery
Window Silhouettes – black construction paper in the shape of popular Halloween shapes can be backlit by your indoor lights for a wicked window decoration
There's a lot to get done around the house to prep for the holiday season, and now is the time to finish up outdoor projects before the snow starts to fall. Here's a few things you should do to start prepping the inside and outside of your home for winter!
Inside Your Home
Insulate exposed pipes that may freeze in the winter. Pay special attention to plumbing and pipes in the garage, crawlspace, and basement.
Deep clean the oven. Start the heavy baking season with a freshly clean oven!
Replace weatherstripping and caulking on doors and windows. A home can quickly lose heat in the winter through air leaks, resulting in a higher energy bill. Check exterior doors and windows to ensure they are properly sealed so chilly drafts don't interrupt the festivities!
Test smoke alarms and carbon monoxide detectors. Before the season of candles, decorations, fireplace usage and cooking, be sure your alarms are working and that you have the right type of fire extinguishers for your home.
Clean out the fireplace. If you have a wood-burning fireplace, have a professional inspect and clean the inside of the chimney. A chimney in good working order will make your winter nights even cozier!
Outside Your Home
Shut off and blow out your sprinkler system, drain garden hoses, and winterize outdoor faucets. Before nighttime temperatures dip into the below freezing levels, you'll want to winterize your exterior irrigation systems. Have the sprinkler system blown out by a professional who know how to do this safely, then drain the water from garden hoses and install inexpensive bibs or covers to your exterior faucets.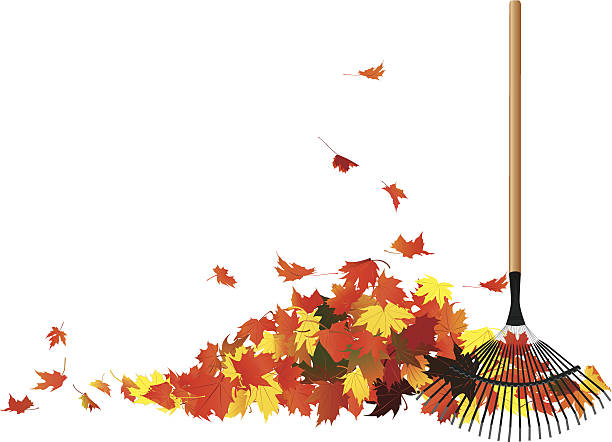 Aerate the lawn and remove leaves. Lawns can absorb water, air and nutrients with the help of an aerating machine. These can be rented or you can have a landscaping company do this for you. Remember to rake leaves when they are dry and easy to pick up! Wet, soggy leaves can stifle your lawn and prohibit growth.
Replace outdoor light bulbs if necessary. Nights are getting darker earlier, and if your walkway or stairs aren't properly lit you could be in for a fall.
Cut back tree limbs and branches that contact your house or power lines. If you live in a region of fall or winter windstorms, or even ice storms, you'll want to make sure that nearby branches or trees are safe from falling on your home.
Stay warm this holiday season!
Pest Prevention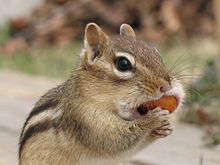 Cute as they may be, chipmunks can really do a number on your property. With cold weather rolling in, chipmunks and other rodents will be sent scurrying to find warmth – which could mean moving in on your house. Here's what you'll need to do to ensure that trick-or-treaters are the only ones knocking on your door this season!
Identify an infestation
There are a few signs that chipmunks have taken up residence on your property. Holes in the yard, foundational damage, chew marks, waste trails, and stockpiles of food are telltale signs of rodent behavior.Top of FormBottom of Form Also, listen carefully – there may be scratching noises above ceilings, behind walls, and under floors, or sharp chirping noises among chipmunks to signal danger.
Make your landscape less attractive for uninvited guests
Chipmunks are attracted to yards that have objects they can hide under and an abundance of food sources. Shrubs, logs, and stumps may serve as good hiding spots for chipmunks. Clearing yard debris and ground clutter near patios, decks, and foundations can discourage chipmunks from digging under structures. Trimming shrubbery that can provide food sources and removing rock piles and wood can also help.
Prevent access to easy food sources
You may be inadvertently inviting chipmunks to settle down by leaving easily accessible pet food or spilled birdseed on your property. Bird feeders attract chipmunks, but there are seeds they don't like. For example, they're nutty for sunflower seeds, but less likely to care for thistle seed, which some birds actually prefer.
Seal holes, close gaps
To keep chipmunks out, experts recommend sealing as many points of entry as possible, no matter how small they are. Close all gaps around plumbing and HVAC pipes and under doors. Think both low and high, as chipmunks love climbing gutters and ladders. Caulk any holes where internet cables, air-conditioning lines, and gas lines lead to the house. Keeping the chipmunks away also means keeping a tight cap on chimneys and sealing vent lines and rain gutters with hardwire mesh.
Use repellants
Commercial repellents labeled for use against squirrels, deer, and rabbits can be effective. Taste-aversion repellents, like Thiram, can be applied to landscape plants to discourage chewing and eating. If you'd like to go the more natural route, plant bulbs like daffodils (for spring flowering), garlic, and onions.
Set up traps
Trapping is probably the most effective method of removing chipmunks from your property. Homeowners can use snap traps, box traps, and mesh traps placed at burrow openings. Traps can be baited with peanut butter or other enticing foods.
Following these steps is a great way to ensure you don't have any uninvited guests!