March 2020 Newsletter
Submitted by RonHanson on Thu, 03/12/2020 - 20:07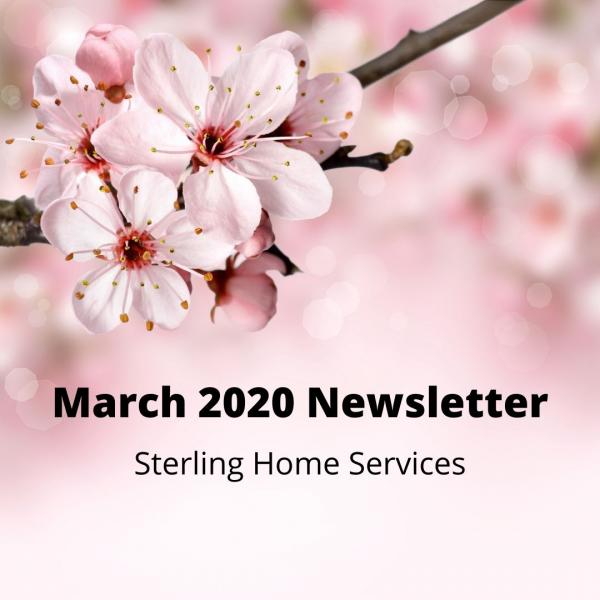 Happy St. Patrick's Day from Sterling Home Services! We hope you're enjoying the warmer weather this month. In the face of the Coronavirus (COVID-19) outbreak, it's more important than ever to keep yourself and your space healthy. If you missed February's newsletter in which we discussed tips for a healthy household, definitely check out that article. This March, we're talking about home improvement projects to boost your home's value as we head into the biggest season for home buying!
8 Spring Home Improvement Jobs
Spring has sprung! This season is a busy month for home buyers, with March–June being the busiest time of year. Whether you're trying to increase your curb appeal or just looking forward to spending more quality time outside, here are some home improvement projects to get you started!
1. Update your address display
When was the last time you updated your address display? For most of us, it's probably something we don't think about very often, but upgrading those numbers can be a cheap and easy way to give new life to your entryway!
The best part is that there are so many different ways to do it! You could go full-out for spring and put your address on colorful planters, put lights behind the numbers for easy reading at night, or get artsy with colorful tile or painted bricks.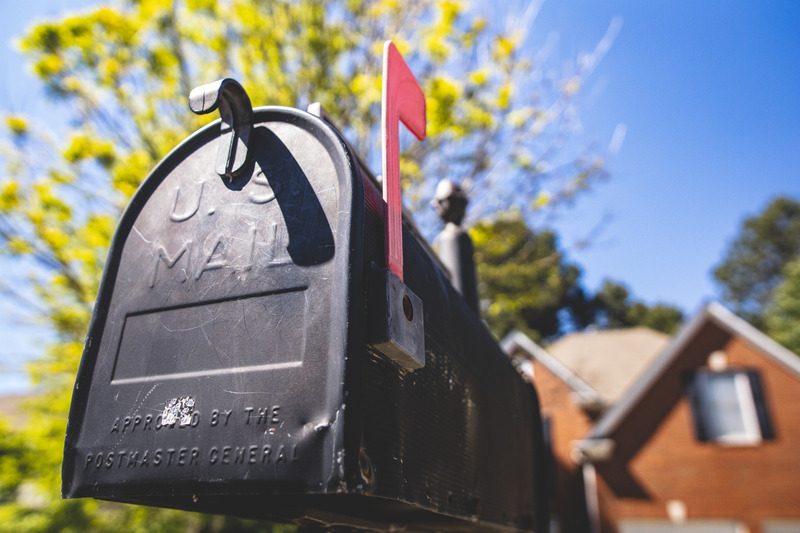 2. Install a new mailbox
Curb appeal literally starts at the curb, and therefore, your mailbox! The addition of a new mailbox, or an old mailbox with a new look, can amp up your appeal.
Add some flowers around the base for a nice pop of color! Or, maybe you'd like a smart mailbox that will protect your deliveries. You have to see it every day, and first impressions are crucial for home buyers, so spicing up your mailbox is a quick and easy upgrade!
3. Upgrade your garden
Of course, spring is a time to tend or replant that garden; but this year, skip the typical tulips and daisies and try something new.
For one, you can add some edible plants—a smart way to save money and indulge in the farm-to-table dining trend. Or you can build a butterfly garden, which is good for the environment. (What's more beautiful than seeing butterflies flit around your yard?)
4. Build a fire pit
A fire pit makes for a cozy ambiance, and it will certainly be a highlight of a weekend gathering once you bust out those marshmallows.
Best of all? You can even make your fire pit a DIY project.
Choose the right spot for your fire pit: a place in your yard that is flat, without low-hanging trees or branches nearby. Then, make sure you pick the right materials, either large stones or cast-concrete curved blocks. You'll get to decide on the size and shape of your pit, plus choose if you want it to be gas or wood-burning.
5. Add a new railing to your porch
If your front porch is looking a little dull, a new railing can make a world of difference. Give your home a classic wood-tone railing for a natural feel, go with a colored railing to give your home a pop of visual interest, or go a little crazy with a funky design to set your home apart!
A nice front porch not only adds value to your home, you get to increase your living space. Thing of it as an outdoor living room that you can enjoy in the warmer months!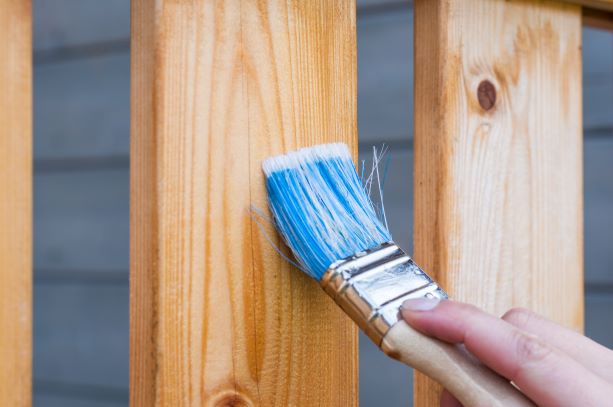 6. Stain your deck (or add one!)
As the weather warms up and the sun comes out, you're almost certainly going to want to spend way more time outside. A nice deck can transform your outdoor space, providing the perfect spot to watch your kids and pets play in the yard while you sling burgers for your friends.
If your deck is looking a little shabby, one easy improvement is to stain it—to either change the color or just accentuate the wood grain. Staining is also good for your deck, helping it stay weather resistant.
If you don't already have a deck to lounge on, building one may be a great spring home improvement project, too. While it may be pricey, according to Remodeling Magazine's Cost vs. Value Report, a new wooden deck will net you a 69% return on investment when you decide to sell.
7. Roofing Replacement
When assessing home improvements, it's important to consider your home's number one defense against the elements: the roof. With a huge return on investment, replacing your roof is one of the smarter projects to undertake this spring. Although it may sound complicated or expensive, the value added by taking care of your home's most important asset is incredible!
8. Siding replacement
Another critical component to not overlook in your home improvement campaign is your home's siding. This exterior material is used to protect your home from the effects of weather, and is a key element in your home's curb appeal!
Fiber-cement siding, which made from a mixture of wood fibers, Portland cement, clay and sand, has become very popular in the past few years, thanks to its rugged durability, low maintenance and weather resistance. Fixing up your siding may make your home look as good as new!
Tax Deductions for Your Home
Every March/April we like to remind our readers income tax deductions they can take for owning a home. Here are some deductions to consider. These may not be all the deductions available, and these deductions may or may not apply to you. Be sure to discuss these with your accountant or lawyer and be sure to check the IRS and state tax codes!
Mortgage interest
Mortgage points associated with a home purchase
Equity loan interest
Home improvement loan interest
Property taxes
Home office deduction
Selling costs
Capital gains exclusion
Moving costs
Mortgage tax credit
March was actually named for the Latin Martius—aka Mars, the Roman God of war. March was also the first month on the Roman calendar up until 153 BC.
In honor of Dr. Seuss' birthday, March is designated as National Reading Month.
Pi Day celebrates the annual occurrence of 3/14 with math jokes, pi-reciting competitions, and (of course) freshly baked pie.
St. Patrick's Day is an annual feast day celebrating the patron saint the day is named after. It's a national holiday of Ireland and is usually celebrated on March 17. It's become a popular holiday in the United States, and people wear green, eat corned beef and cabbage, and make merry.
Statistically, March is the most unproductive month of the year, due to – you guessed it – March Madness! Businesses tend to lose company time to employees who would rather spend time betting.
The March equinox occurs the moment the sun crosses the celestial equator (the imaginary line in the sky above the Earth's equator) from south to north, causing day and night to be the same length. This happens either on March 19, 20 or 21 every year.
In March of 1998, Titanic became the first film to gross over $1 billion worldwide!
The first month of spring is March, and many animals start to wake up from hibernation.