July 2016 News
Submitted by RonHanson on Tue, 07/19/2016 - 11:53
It's the middle of the summer. We hope everyone is having a safe and enjoyable summer. With summer comes vacation and if you are leaving on vacation it is important to protect your home from unwanted attention. In this issue we give you some things to think about to protect your home while you're away, some DIY advice for keeping your outdoor living spaces lovely and inviting, and some ideas for getting sellers to pay for repairs that might show up on your home inspection.

An Invitation to Burglars
You would never invite a burglar to check out your house while you're away (you'd probably never use the word burglar, either!) But you may be doing just that while you broadcast to the social media audience your plans to be away for that fabulous summer vacation. Here are some things to think about to protect your home against unwanted attention while you're away…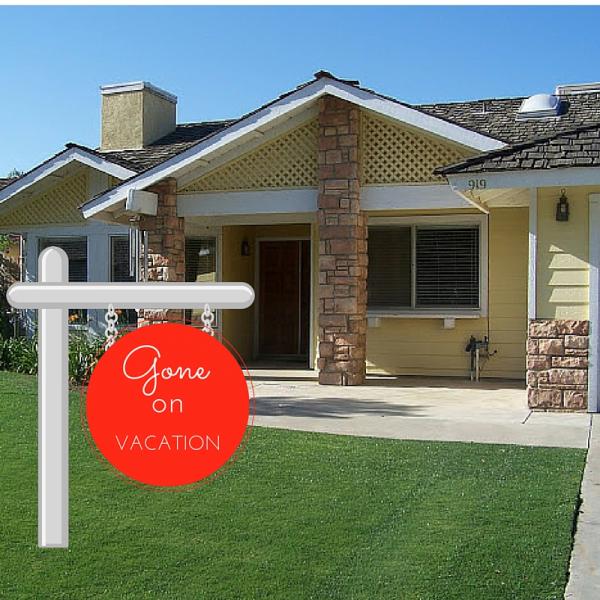 Thieves are opportunists and look for the easiest prey. They will look for signs that the house is empty. Anything and everything you can do to give the impression that someone is around will help deter vandals and thieves.
Check all the doors and windows - make sure they are closed and locked
Give a trusted neighbor a key, ask them to keep an eye on your home
Ask neighbors to occasionally park in your driveway
Never leave notes on the door or allow mail to pile up, have the trusted neighbor collect your mail
Close and lock the garage door
Set a few interior lights on timers
If possible, have your neighbor move the timer to different rooms or lights every couple of days
Set outdoor lighting on a timer or use a motion detector
Discontinue any regular delivery services - diapers, subscriptions, etc. or have them delivered to the neighbor's while you are away
Arrange for lawn care - an overgrown

unkept

lawn can signal an empty house
Set the home security system, or purchase a home security system (it may lower your home insurance, too)
Do not publicize that you are going away for an extended period of time.
Do not publish photos of yourself during your vacation - wait until you come home to share your fabulous trip with everyone!
When the home you're buying needs repairs
You've found the home of your dreams and you couldn't be more excited fill it with your belongings and start making memories. But the inspection turned up some unexpected repairs that are needed.
Let's be honest, every house - that is, EVERY house - needs repairs in some form or another, even brand new homes. Every home inspection is bound to turn up a list of repairs. How do you determine which repairs are absolutely necessary and which repairs your sellers will take care of before you buy?
Professional Home Inspection
A qualified home inspector is skilled and experienced. They will know where to look, what to look for and create a comprehensive report on components and systems that need attention. The inspector's report may not describe the exact condition but it will note which items are defective or need service. A professional home inspection report gives a buyer leverage and authority when asking for the seller to foot the repair bills.
Normal and Reasonable Requests
There are a few obvious items that most sellers will agree to correct. Go over the home inspection report with your real estate agent and see if you can identify items that you'd like repaired before you buy. A seller may not be willing to pay for larger items, such as upgrading the electrical or installing a new roof, but you may be able to negotiate the cost of these repairs in the selling price of the home. It's a good idea to enlist the help of a reputable contractor to help you determine the cost of these repairs. Don't leave this estimating up to the seller, as the seller is motivated to search for the lowest cost solutions.
Be Realistic
When approaching the sellers with repair requests be reasonable in with your list. A seller will be much more inclined to consider your offer and making your repairs if your list is realistic. Leave off all aesthetic requests such as paint, carpet, or wallpaper issues and nit-picky items like nicks in the woodwork or burnt out lightbulbs.
Remember that if you don't ask you don't receive so whatever items you consider deal-breakers ask if the seller is willing to foot the bill. Knowing that every home needs repairs will help you as you conduct your home search and temper your expectations. Use the expertise and guidance of the professionals you've hired, your realtor and your home inspector, to help you through the process!
Beautiful Outdoor Spaces
Sun and weather can take a toll on outdoor furniture, decks, and patios. Below are some simple do-it-yourself solutions for keeping your outdoor space clean and inviting.
To clean patio furniture
Apply this gentle cleaning solution to your patio furniture cushions with a sponge, and wipe clean.
1 tsp dishwashing detergent
1 quart warm water
1 Tbls Borax
Or put the solution in a spray bottle and saturate the cushions on both sides. Let sit for 15 minutes and use your garden hose to spray off the solution using a strong spray. Stand the cushions on an edge, in direct sunlight to dry. Then, when they're almost dry spray with a fabric protector.
For your white plastic outdoor chairs and tables use:
1 gallon warm water
3 Tbls automatic dishwashing detergent
Use a sponge or soft brush to wash the furniture, let sit for 15 minutes then rinse off the cleaning solution with the hose. Don't use this solution on colored plastic furniture because it will speed up the fading process.
For colored outdoor plastic furniture use a gentle all purpose cleaner and water, then rinse well.
Clean concrete patio
Power washing is quick and complete, plus it doesn't require any chemicals or solutions.
If your garage or carport floor is marred by oil stains, saturate the area with concrete cleaner and degreaser available at your hardware store. Follow the directions and safety precautions on the label.
Preventative measures!
Slip 'feet' under deck planters. 
Since standing water rots wood, make certain that water drains directly onto the ground when you water plants on your deck.
Make drainage room by setting pots on pot "feet" (sold at garden-supply stores that carry pots). Or use pot stands – some have wheels that enable you to move heavy pots. Or for a frugal solution, just prop bricks under the pots, taking care to ensure that they're stable.
Sweep your deck and patio to remove leaves, dirt, and debris to prevent build up and staining.
Keeping up with simple cleaning and maintenance of your outdoor space will extend the life of the furniture and flooring and make it a beautiful area for you to enjoy all summer long!
Quotes about Summertime

"Here men from the planet Earth first set foot upon the Moon. July 1969 AD. We came in peace for all mankind." ~ Neil Armstrong
No other date on the calendar more potently symbolizes all that our nation stands for than the Fourth of July." ~ Mac Thornberry
"What good is the the warmth of summer, without the cold of winter to give it sweetness?"~ John Steinbeck
"It's a smile, it's a kiss, it's a sip of wine … it's summertime!" ~ Kenny Chesney
"Summer's lease hath all too short a date." ~ William Shakespeare