December 2019 Newsletter
Submitted by RonHanson on Thu, 12/19/2019 - 18:42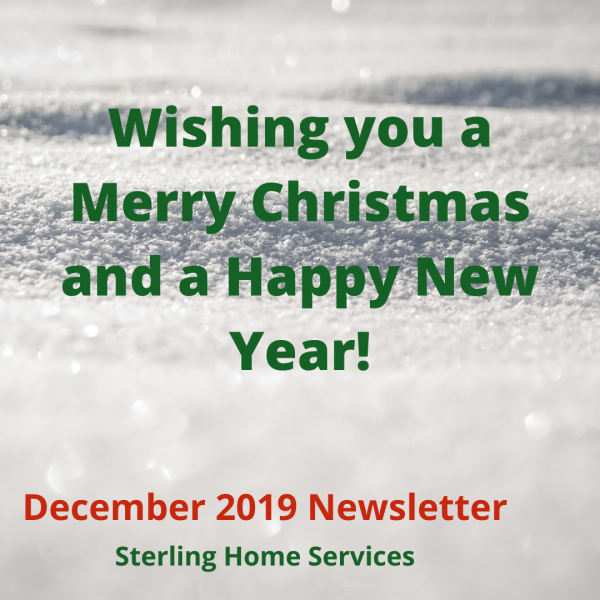 Happy Holidays from Sterling Home Services! We hope this past year has been filled with prosperity and joy. Hopefully you checked out last month's newsletter, where we covered holiday home safety tips. With that priority taken care of, take this time to enjoy your holiday season and ring in the new year. If you're thinking of selling or actively trying to sell your home, we've prepared some tips this month to take the stress out of winter selling so your holiday will truly be merry and bright!
Winter Selling Benefits
Remember – winter is a great time to sell your house! Though the season is usually marked by poor weather and consumers are spending a lot of time with loved ones, there are also some great benefits to listing in the winter.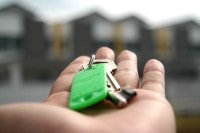 Motivated buyers – While there are fewer buyers out and about in the cooler months, the buyers actively shopping for a new home in the winter are likely very motivated — often moving because of a job relocation, change in financial situation, or change in family needs.
Less seller competition – With fewer homes on the market in winter, there's less competition from other sellers and a limited inventory for buyers. You'll likely end up getting a better price for your home!
More time off work – People tend to take time off work during the winter, and long weekends can mean popular home shopping days. As a seller, it also means more options for showings and open houses!
More attention from agents – When agents have fewer listings, sellers receive more of their undivided attention. The same goes for buyers' agents — they have more time to arrange showings and negotiate deals.
Tax benefits – Buyers looking to purchase homes before the end of the year for tax purposes find December listings ideal.
Tips for Winter Selling
Spruce up your online listing
When the weather's bad, more house hunting happens online. Ensure your home is being shown in its best light by making sure the listing description is engaging and complete.
Invest in professional photography
Quality real estate photos are everything, and making a home's interior seem light and bright during the winter takes a professional. And, when selecting a photo of a home's exterior, consider one of the tried-and-true tricks to selling a house: use a picture from the previous spring or summer.
Hire the right agent
When interviewing agents, make sure to ask about their experience with selling in the winter or in slow markets. Find out how they plan to market the home when there is a limited pool of buyers.
Price to sell
A well-priced home can sell quickly no matter the season. Have your agent help you price your home to attract the biggest pool of potential buyers.
Keep decorations simple
There's something about the holiday season that makes a house feel like home. But when selling, less is more, so avoid excessive Christmas decorations. Aim for tasteful holiday decorations like seasonal centerpieces or a small tree with a few presents underneath.
Bake cookies
Baking cookies before an open house is a classic real estate technique, but it works especially well when selling at Christmas. Invite potential buyers in with the scent and keep them exploring the home with a tasty treat.
Make it cozy
Winter is the perfect time to emphasize cozy features. Turn the fireplace on, decorate with warm colors, and add a few throw blankets around the home.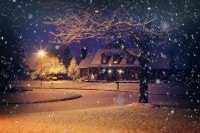 Add some (winter) curb appeal
When selling property in winter, curb appeal takes on a different look. Shovel snow, offer umbrellas, illuminate pathways, and make sure there's a doormat for visitors to wipe their wet feet.
Turn the lights on
Daylight hours are limited during winter months, so maximize light whenever possible. Install higher wattage light bulbs and turn on additional lights, both to make a home's interior look its best, and to create a warm glow from the street.
Turn the heat on
Drafts are less noticeable with the heat on, so make sure that potential buyers are welcomed inside with warmth. If it's been a while since examining the HVAC system, now is the time. Affordable fixes like adding insulation, replacing weather stripping, and servicing the furnace can go a long way.
If you're thinking of selling your home, a home inspection can help you estimate a selling price and make your home as marketable as possible. Give us a shout if you're interested in getting an inspection!
Christmas Facts
About 90% of Americans celebrate Christmas in some way. No wonder it seems like Christmas is everywhere from October through to the New Year!
The song "Jingle Bells" was originally performed on Thanksgiving under the title "One Horse Open Sleigh." It wasn't until the song was republished two years later in 1857 that it was renamed and went on to become the iconic Christmas song we know today.
The Jamestown settlers created the first American batch of eggnog. However, it wasn't quite the milky drink we've come to know and love. The word "nog" actually comes from the word "grog," which means any drink made with rum!
Be careful when you're decking the halls! The Consumer Product Safety Commission estimates that holiday decorating sends nearly 14,700 people to the hospital each year.
Between Thanksgiving and New Year's Day last year, the U.S. Postal Service delivered an estimated 850 million packages, in addition to 15 billion pieces of mail. Let's hear it for our hardworking mail carriers!
Have a Merry Christmas, Happy Holiday Season, and a Happy New Year! From Sterling Home Services.